Rather than scouring manufacturer websites to scrutinize cam ranges, we've simplified the process for you. For visual purposes, the general overview chart below is not consistent in scale. Greater detail can be found in the brand and model charts underneath. Note that buying links are affiliate links—purchases made from them support our free content.
If you're new to trad climbing, also take a look at How to Build a Trad Rack. Additional related articles can be found at the end of this post.
This guide was last updated on July 5, 2016
Black Diamond Camalot C4 and Camalot Ultralight ranges
Black Diamond's new Ultralight cams share the same range capacity as their C4s.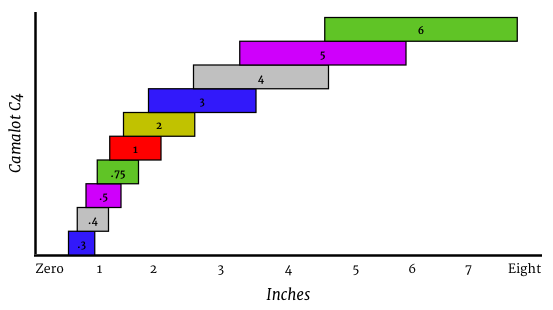 13.8-23.4 mm; 0.54-0.92 in (size .3)
15.5-26.7 mm; 0.61-1.05 in (size .4)
19.6-33.5 mm; 0.77-1.32 in (size .5)
23.9-41.2 mm; 0.94-1.62 in (size .75)
30.2-52.1 mm; 1.19-2.05 in (size 1)
37.2-64.9 mm; 1.46-2.55 in (size 2)
50.7-87.9 mm; 2.00-3.46 in (size 3)
66-114.7 mm; 2.60-4.51 in (size 4)
85.4-148.5 mm; 3.36-5.85 in (size 5
114.1-195 mm; 4.50-7.68 in (size 6)
If buying a full set of cams, some of the steepest discounts are on packages through Bentgate, seen here.
Wild Country Helium Friend ranges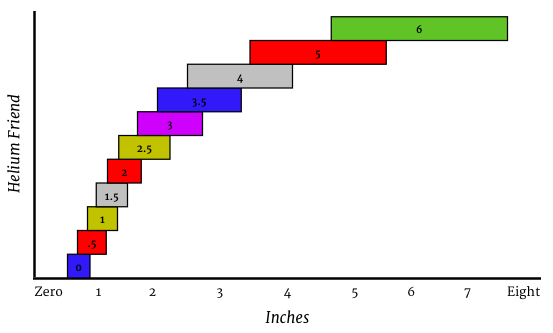 14-22.5 mm; 0.55-0.89 in (size 0)
16.6-26.7 mm; 0.65-1.05 in (size .5)
19.7-31.7 mm; 0.78-1.25  in (size 1)
23.6-38 mm; 0.93-1.50 in (size 1.5)
28.4-45.7 mm; 1.12-1.80 in (size 2)
34.4-55.4 mm; 1.35-2.18 in (size 2.5)
41.9-67.5 mm; 1.65-2.66 in (size 3)
51.3-82.7 mm; 2.02-3.25 in (size 3.5)
63.3-101.8 mm; 2.49-4.01 in (size 4)
84-138 mm; 3.31-5.43 in (size 5)
118-194 mm; 4.64-7.64 in (size 6)
DMM Dragon Cam ranges

13.6-22.5 mm; 0.54-0.89 in (size 00)
16-26.7 mm; 0.63-1.05 in (size 0)
20-33 mm; 0.79-1.30 in (size 1)
24-41 mm; 0.94-1.61 in (size 2)
29-50 mm; 1.14-1.97 in (size 3)
38-64 mm; 1.50-2.52 in (size 4)
50-85 mm; 1.97-3.35 in (size 5)
68-114 mm; 2.68-4.49 in (size 6)
Trango Flex Cam ranges

12-18 mm; 0.47-0.71 in (size 1)
16-22 mm; 0.62-0.87 in (size 2)
20-28 mm; 0.79-1.10 in (size 3)
24-35 mm; 0.94-1.38 in (size 4)
27-44 mm; 1.06-1.73 in (size 5)
33-55 mm; 1.30-2.17 in (size 6)
42-69 mm; 1.65-2.72 in (size 7)
52-86 mm; 2.05-3.39 in (size 8)
63-108 mm; 2.48-4.25 in (size 9)
Omega Pacific Link Cam ranges

13.5-35 mm; 0.53-1.38 in (size .5)
17.8-44.5 mm; 0.70 – 1.75 in (size .75)
21.1 – 53.3 mm; 0.83 – 2.10 in (size 1)
25.4-64 mm; 0.96 – 2.51 in (size 2)
Metolius UL Master Cam ranges

8.5-12 mm; 0.34-0.47 in (size 00)
10-15 mm; 0.39-0.59 in (size 0)
12.5-18 mm; 0.49-0.71 in (size 1)
15.5-22.5 mm; 0.62-0.89 in (size 2)
18.5-26.5 mm; 0.74-1.04 in (size 3)
23.5-33.5 mm; 0.93-1.32 in (size 4)
28.1-39.1 mm; 1.11-1.54 in (size 5)
33.2-46.9 mm; 1.31-1.85 in (size 6)
40.3-57.4 mm; 1.59-2.26 in (size 7)
49-71.1 mm; 1.93-2.80 in (size 8)
Black Diamond Camalot X4 ranges

8.4-13.8 mm; 0.33-0.54 in (size .1)
9.9-16.5 mm; 0.39-0.65 in (size .2)
12.4-21.2 mm; 0.49-0.83 in (size .3)
15.5-26.6 mm; 0.61-1.05 in (size .4)
19.8-33.7 mm; 0.78-1.33 in (size .5)
24-41.2 mm; 0.94-1.62 in (size .75
Fixe CCH Alien ranges

8-14 mm; 0.33-0.55 in (size 1/3)
10-17 mm; 0.39-0.67 in (size 3/8)
13-22 mm; 0.53-0.86 in (size 1/2)
15-25 mm; 0.61-1.00 in (size 3/4)
17-30 mm; 0.68-1.20 in (size 7/8)
20-33 mm; 0.78-1.30 in (size 1)
Further reading