But with so many great rock climbing books out there, it is hard to know which ones are worth your time and money. To help you out, we've created a list of the Best Rock Climbing Books we love either for their information on training and safety, their ability to induce psych, or their insight into the climbing life.
---
Best books for rock climbing mental training:
Rock Warrior's Way, Arno Ilgner
Whether you crush 5.15 or 5.5, this mental training guide is a must-read for every climber. The mental aspects of rock climbing are often overlooked in climbing literature, but we all know how drastically our thoughts can effect our climbing performance and experience.
This book outlines a comprehensive program for training your mind to overcome everything from performance anxiety to the fear of falling. Instead of being controlled by fear or ego, The Rock Warrior's Way helps us learn how to use our love for climbing as our motivating force.
Espresso Lessons, Arno Ilgner
Much like it sounds, Espresso Lessons by Arno Ilgner serves climbers up with a series of actionable lessons in a short and powerful punch. This follow-up to Rock Warrior's Way serves as the practical guide for applying the mental fitness concepts Ilgner outlines in his first book into concrete and specific climbing situations. This book helps to assess when and how to effectively take risks, cope with the importance and inevitability of falling, as well as other topics that can assist in developing a strong mind as you approach climbing.
Any climber knows, that oftentimes, the mental aspect of the sport can be far more challenging than any one physical component. Thus, taking the time to learn tangible ways to build and apply your strength of mind as you climb is well worth a moment of your time. To get the most of out of Ilgner's books, make sure you read Rock Warrior's Way first!
Vertical Mind: Psychological Approaches for Optimal Rock Climbing, Don McGrath and Jeff Elison
In this mental training manual, Don McGrath and Jeff Elison teach us about the importance of our minds when it comes to unlocking our full potential as athletes. Drawing from latest research in brain science and psychology, this book can help you retrain your brain (and therefore your body) to perform at higher levels.
This is a great book for anyone who feels held back by fear or anxiety while rock climbing. Another important and rarely spoken of topic that this book covers is how to help your partner be a better climber as well. Expect lots of valuable step-by-step drills, exercises, and insight!
---
Best rock climbing autobiographies and stories
Drawn: The Art of Ascent, Jeremy Collins
Drawn is Jeremy Collins' artful story of feeling pulled to climb in every direction while also being a committed father and husband. After losing a dear friend in a climbing accident, Jeremy and his friends decide to go on a journey to put up first ascents in the US, China, Venezuela, and Canada. Drawn also features beautiful artwork from the sketch books that he kept during his travels. This recently won the 2015 Banff Mountain Book Award in Adventure Travel, and for good reason. Climbers and non-climbers alike will find this book relatable and enriching.
Camp 4: Recollections of a Yosemite Rockclimber, Steve Roper
In this book, we get a look at this history of climbing culture in Yosemite and an intimate look at the birth of one of America's subcultures. Steve Roper spent most of 10 years living in Yosemite Valley during what many call the "Golden Age" of rock climbing. In the 1960's, Camp 4 was the the gathering spot for misfit climbers. These are accounts of the characters, climbs, attitudes, and stories that came out of Camp 4 and Yosemite.
Climbing Free: My Life in the Vertical World, Lynn Hill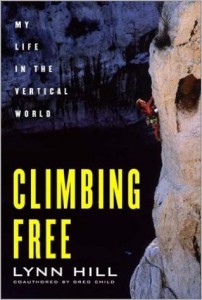 Climbing Free is Lynn Hill's autobiography that tells the story of her childhood, the climbing life, and her historical free ascent of The Nose on El Capitan in 1994.
While many autobiographies about climbing can seem self-absorbed or egotistical, this book is refreshingly devoid of pretension and inspires the reader in a quiet way.
High Infatuation: A Climber's Guide to Love and Gravity, Steph Davis
In this honest account of love, soul seeking, and climbing, Steph Davis beautifully articulates her obsession with climbing rocks. High Infatuation is a great recount of the drama and details of attempting certain routes, but is perhaps most valuable for its intimate look into the mind of a climber.
If you feel like climbing rules your life and guides your every decision, this book will definitely speak to you and make you feel less crazy.
Alone on the Wall, Alex Honnold
Risk, reward, and maintaining laser focus are among the topics examined by world-famous free soloist Alex Honnold. In, Alone on the Wall, Alex takes an introspective look as he narrates his seven greatest climbs.
Notorious for understating his epic feats, co-writer David Roberts provides greater context and perspective for the reader. While the words are consuming in their spirit of adventure, an additional 16 pages of color photographs are sure to get you outside and chasing your dreams.
Psychovertical, Andy Kirkpatrick
This autobiography is an account of Andy Kirkpatrick's thirteen-day ascent of Reticent Wall on El Capitan in Yosemite Valley. He combines this story with accounts of many other bold ascents that will make you redefine your idea of "suffer-fest." The interesting and ever-present question of "Is this worth it?" is used as the backdrop for his entire story. The reader gains insight into his personality, marriage, and family as Kirkpatrick tries to answer this question for himself.
Women Who Dare: North America's Most Inspiring Women Climbers, Chris Noble
A profile of 20 of America's most badass female climbers, Women Who Dare by Chris Noble serves as an inspiring book full of fascinating personal stories, struggles, successes, and useful advice—applicable to both climbing and life in general. This book features a range of unique and badass women (some whom you might not even know!), spanning from young and aspiring climbers, like Sasha DiGuilian to the ever-respected veterans, like Lynn Hill.
Male or female, climber or not, Women Who Dare will inspire you. This book extends a healthy reminder of the ways we can all learn how to follow our passions, overcome challenges, and find personal fulfillment in all that we do. The incredible photography and truly motivating words accumulated by Chris Noble in this book will surely add a spark of psych to the relationship you share with climbing.
Learning to Fly: A Memoir of Hanging On and Letting Go, Steph Davis
In her second book, Steph Davis gives us an intimate look into her marriage with Dean Potter and how his controversial climb of Delicate Arch put a strain on their relationship, her career, and caused her to question her own identity. This causes her to set out on her own with her dog, Fletch, in hopes of finding something to define her identity.
She ends up falling in love with skydiving and eventually BASE jumping. This proves to be ironic, since both of these sports are all about what climbers fear and avoid as much as possible—falling. This is a great story about risk-taking, adventure, and love.
---
Best books for technical rock climbing skills
Mountaineering: Freedom of the Hills, (multiple authors)
Having been in print for over 50 years, Freedom of the Hills is a time-tested classic for climbers and mountaineers of all abilities. It's not outlandish to say that many climbers treat this 600-page goliath of a book like a Bible.
Helpful diagrams throughout the pages simply convey complex topics, and the writing is pleasant and straightforward. Subjects covered throughout the well-segmented chapters include outdoor fundamentals, rock climbing technique, rope work, emergency response, and much more.
Self-Rescue, David Fasulo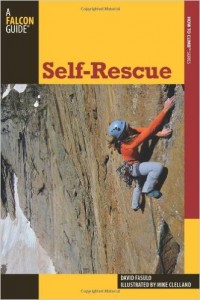 This is a topic that is incredibly important yet rarely taught when we are first learning how to climb. It is the responsibility of climber to know at least the basics of self-rescue. In this book, you will not only learn self-rescue, but other crucial pieces of knowledge like how to rappel down a multi-pitch route with an injured climber. David Fasluo also describes knots, anchor and belay systems, hitches, and other important concepts in detail. You owe it to yourself and your partner to know the concepts illustrated in this book.
One Move Too Many: How to Understand the Injuries and Overuse Syndromes of Rock Climbing, Thomas Hochholzer and Volket Schoffl
Not only does this book provide us with practical advice on how to treat climbing injuries, but it also speaks to something that climbers rarely focus on—injury prevention. Using a well-balanced mix of anatomy, science, and and sports medicine, the authors have created a helpful guide that understands the sport of climbing and the effect is has on our bodies. In this book you'll learn about taping, stretching, muscle development, overuse symptoms, rehabilitation, and basic anatomy.
The Trad Climber's Bible, John Long and Peter Croft
The Trad Climber's Bible is a book about traditional climbing from two of the most entertaining and qualified characters in our sport. Long and Croft offer knowledge and inspiration by telling readers their hard-earned trad climbing stories. Although this was published by Falcon Guides, this is not a guidebook or a how-to book, but rather a collective of stories about trad climbing that has been written in a narrative-style. However, you can definitely learn a thing or two from reading this book.
The Good, the Great, and the Awesome, Peter Croft
This is Peter Croft's guidebook to the High Sierra. We know, we know—how could a guidebook be considered worthy reading material?
In this guide, not only do you get beta for forty of the High Sierra's most classic routes, but almost every route comes with a hilarious, epic, or cringe-worthy story straight from Peter himself. This reads more like a journal than a guidebook. It will definitely get you psyched and remind you what rock climbing is all about.
Basic Rockcraft, Royal Robbins
Published in 1971, Basic Rockcraft made our list not because it contains cutting-edge information, but because it shows us an important piece of rock climbing history. The title says it all—this book is about the basics of rock climbing. It is a quick read and would provide any beginner with a solid foundation of climbing knowledge. However, even if you climb 5.15 you will love this book for its charm and glimpse into our past.
Rock Jocks, Wall Rats, and Hang Dogs, John Long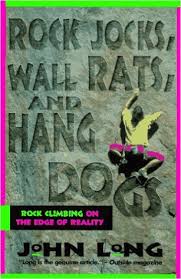 This is a hilarious, quirky, and informative book about the history of rock climbing told by John Long. Rock Jocks, Wall Rats, and Hang Dogs teaches us about the early days of our sport through insightful and funny stories from the "golden age" of climbing.
Long has written these tales in a way that makes you feel like you're sitting around a fire and drinking beers with him. This book also offers valuable insight, philosophy, and technical information to make this book a must-read for any climber.
---
Best rock climbing training books
Training For Climbing, Eric Hörst
Incorporating cutting-edge research from sports medicine, psychology, fitness, and nutrition, Eric Hörst has written a training program that has gained respect among many climbers of all ability levels. This book focuses mostly on strength, power, and endurance but doesn't neglect technique or the mental aspects of rock climbing. Many climbers have reported unbelievable gains with this training program.
The Rock Climber's Training Manual, Michael L. Anderson and Mark L. Anderson

This manual is considered by many to be the most complete, thorough, and valuable resource for training for rock climbing. The size of this book alone can be overwhelming, but you will probably find that all of the information within it is completely necessary and applicable. Climbers of all ability levels have reported crazy success stories by following this training plan. The easy-to-follow approaches are totally customizable to your desires, time restraints, and ability level.
---
Other awesome books for climbers (of all types)
Into Thin Air, Jon Krakauer
Into Thin Air is journalist and mountaineer Jon Krakauer's chilling account of the Mt. Everest disaster of May 1996, which took 8 lives and left countless others involved with heavy memories and a guilty conscious. In this honest and detailed look at the events and interactions that gave rise to the tragedy, Krakauer addresses many of the disaster's controversial questions, while providing a fair perspective of the people involved—including due credit to the expedition's dedicated Sherpas.
Krakauer maintains a unique humility while illustrating his researched claims to support his assessments over some of the more controversial disputes that took place in this disastrous summit effort. For instance, Krakauer sheds light on the commercialization of the Everest expeditions, which he alleges caused guiding services to compromise vital safety measures to guarantee clients a summit.
Annapurna: A Woman's Place, Arlene Blum
Published in 1984, this book is the first ever account of the sport of mountaineering from a woman's perspective. This is the story of thirteen women who left San Francisco to the Nepal Himalayas to make history as the first Americans and the first women to climb Annapurna, the world's tenth tallest peak. The leader of the expedition, Arlene Blum, tells their tragic yet inspiring story. Blum uses a mix of humor, honesty, and passion to describe their challenging climb.
The Dharma Bums, Jack Kerouac
While not explicitly a climbing book, Jack Kerouac's The Dharma Bums shares enough overlap with climbing culture that it deserves a spot on every climber's bookshelf.
The most climbing-centric scene in the book is the narrator's hike/climb up California's Matterhorn Peak, where Kerouac expresses that the performance of each individual is reflective of his karma. Sprinkled with an entertaining dose of booze, sex, drugs, and spirituality, this is one enjoyable read!
Conquistadors of the Useless: From the Alps to Annapurna, Lionel Terray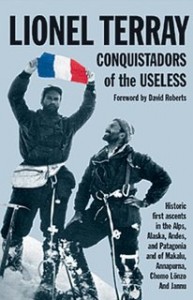 Lionel Terray's down to earth personality and notable ascents in the Andes, the Himalaya, and Alpine north faces, makes Conquistadors of the Useless a beautiful and inspiring autobiography. Terray turns the sometimes slow, boring, and hard-to-relate-to nature of mountaineering into fascinating stories that are easy to engage with. This will speak to anyone who loves the mountains, and does so in a way that equally focuses on facts, personal insight, and emotion.
Touching the Void, Joe Simpson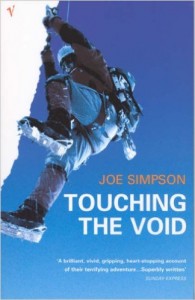 Touching the Void is a book written by Joe Simpson about his and Simon Yaets' disaster-ridden yet ultimately successful ascent of the 6,344 meter peak, Siula Grande, which is located in the Peruvian Andes. While the main themes in this book include suffering, friendship, fear, and survival, this is really a story about the physical and spiritual strength of humans. Touching the Void has gained a lot of popularity and was even turned into a movie.
---
Get more gift ideas! See all our Gift Guides
🎁 The Best Gifts for Rock Climbers
✨ 19 Gifts to Dazzle any Dirtbag Rock Climber
🕶️ 19 Gifts for the Hipster Outdoor Adventurer
🏔️ Mountain Style Gear for Men and Women
💵 Awesome Gifts Under $20
💵 Awesome Gifts Under $50
🌲 17 Best Outdoorsy Gifts this Season
🌲🌲 28 More Outdoorsy Gifts for this Season
🆕 Gifts for the Beginner Rock Climber
🧗🏾‍♀️ Gifts for Ultimate Craggin
⛺ Gifts for the Camping Connoisseur
🧗‍♀️ Rock Climbing Gifts for Her
📚 Top 25 Rock Climbing Books
🚗 Essential Gear for Van Life