On July 7, young female climbing prodigy Ashima Shiraishi took a 45-foot ground fall at Stone Summit climbing gym in Kennesaw, Georgia. According to reports, her father who was belaying her using a Petzl GriGri 2 Belay Device, accidentally pushed down on the brake release lever, resulting in her fall. Fortunately, Ashima suffered no severe injuries and is well on her way to a full recovery.
While her father—a coach and mentor of hers who has belayed Ashima countless times throughout her career—certainly knows how to use a GriGri, this accident underscores the importance of truly understanding the mechanics of the device that many of us frequently rely on. It never hurts to review our methods as climbers and ensure optimal safety, so let's take a look at some common errors, as well as the proper use of a GriGri belay device.
Reminders and best practices when using a Petzl GriGri
Note: These are simply considerations for use of a Petzl GriGri belay device, and are not intended to be used as a technical or exhaustive guide to using this device. Before use, reference Petzl's Instructions for Use and other informational materials. 
1. A GriGri is NOT auto-locking, but rather assisted braking
Let's start with one of the most common misconceptions: that a GriGri is an auto-locking belay device. It is in fact not. Petzl explicitly states that a GriGri is an "assisted-braking" belay device when used with ropes that are 8.9-11mm in diameter.
How is not auto-locking? You'll notice that if you move your rope slowly through the device (especially when using a thin rope), the device will not necessarily cinch down on the rope, allowing it to move freely through the device—albeit at a slower rate. Thus, it will only fully brake on the rope when secured on the brake side, similar to an ATC.
2. Keep your hand on the brake side of the rope and off the device
For the reason expressed above, it's extremely important to always belay with one hand on the brake side of the rope. Essentially, you should use the same belay technique you would with a standard belay device, as depicted below.
3. Only press the cam when giving slack quickly, and do so with your fingers still on the brake end of the rope; then return to normal belay position
Because pressing on the camming lever of the belay device releases the assisted braking mechanism, it is extremely important to keep your hands off of the cam, unless you are doing so for the purposes of feeding slack quickly.
Petzl explains in their thorough GriGri guide that,
This action must be momentary. Once the leader has clipped, your hand must return to the primary belaying position. Continuous contact with the device can lead to misuse.
Here is the technique they suggest: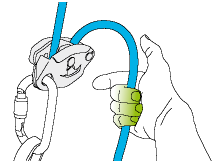 1. Hold the rope with at least three fingers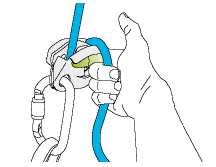 2. The index finger supports the GRIGRI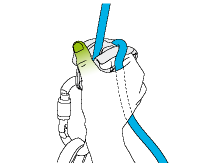 3. The thumb presses on the cam
In the case of Ashima's fall, it's possible that her father was resting his hand on the camming device—a common error when using the GriGri 2.
There are rumors that a new Petzl belay device will eliminate some common errors through its design; however, details are still unconfirmed.
This comprehensive Petzl video gives a fantastic overview of a wide array of GriGri techniques:
4. Provide an attentive belay, always.
Just because you're using an assisted-braking device doesn't mean you have the freedom to take selfies on your phone or catch Pokémon at the crag. Your first priority should be ensuring that your climbing partner has the security of your belay and feels safe as they ascend.
By being an attentive belayer with your GriGri, you will be more ready to brake in the case of your partner's unexpected fall, and be able to provide the right amount of slack to offer a soft catch, when appropriate.
Whatever device you use when belaying, just don't be this guy:
Final considerations
While accidents happen in climbing, each of us has the ability to limit risks by being attentive and by using proper technique with our gear—whatever that may be. Stay safe out there!
Buy a GriGri at the lowest price
---
Further reading