This guide serves as an introduction to the main rock climbing grade systems used in the United States, including the V-Scale for bouldering and the Yosemite Decimal System for roped climbing. It also provides an overview of the National Climbing Classification System (NCCS) and aid climbing grading systems. See our international Climbing Grade Comparison Chart showing how grades in the US convert to those abroad. (Photo: Maria Ly)
---
Bouldering grades: V-Scale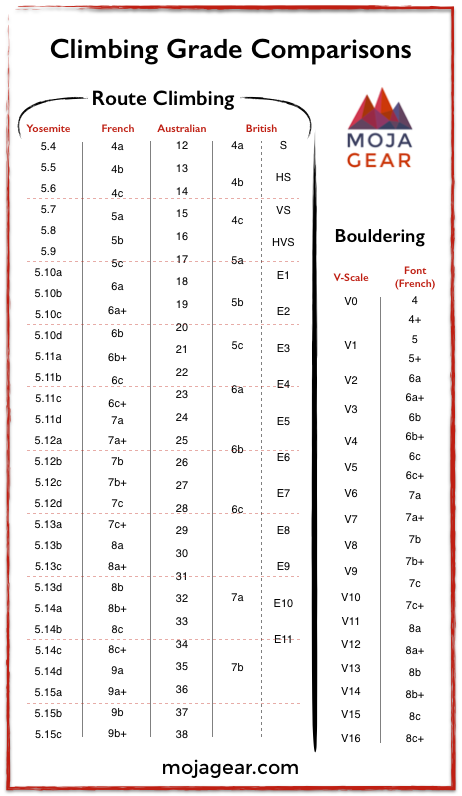 Established by John Vermin Sherman in the bouldering mecca of Hueco Tanks, the V-Scale ranges in difficulty from V0 (easiest) to V16.
Occasionally, a plus (i.e. V2+) will designate a bouldering problem being on the harder side of the grade, while a minus (i.e. V2-) indicates a climb being on the easier, or "softer," side of the grade. Also, a VB rating may be used to designate a problem easier than V0 and intended for beginners.
Roped climbing grades: Yosemite Decimal System (YDS)
America's grading system for roped climbs is the Yosemite Decimal System, which is divided into five classes. Roughly outlined, these are as follows:
Class 1: walking
Class 2: hiking; occasional use of hands
Class 3: scrambling with the use of hands
Class 4: basic climbing at elevation; a fall could be fatal and ropes are often used
Class 5: technical rock climbing on steep terrain and requiring ropes, harnesses, belay equipment, etc.
For the purposes of modern rock climbing, all grades occur within Class 5 and range in difficulty from 5.0-5.15d. When established by the Sierra Club in the 1930s, however, Class 5 grades were intended to range from only 5.0-5.9. Anything above 5.9 was previously regarded as impossible.
In 2018, Adam Ondra successfully ascended the first route with a rock climbing grade of 5.15d. Since Adam Ondra is the only person to have ever climbed a route of this difficulty we simply have to trust him that it really is that hard.
The evolution of the Yosemite Decimal System of grades
Unable to contain breakthroughs of the last half-century, rock climbing grades have steadily been pushed upward. Additionally, letters a, b, c, and d have been implemented above the 5.9 grade to further distinguish individual grade increments. An a is indicative of the easier side of the numbered grading level, followed by b, c, and d as the hardest. Note that the difference between 5.11a and 5.11b is theoretically the same difference in difficulty between 5.7 and 5.8.
Although grades are implemented as a system for consistency, they can vary greatly between indoors, outdoors, and across different climbing destinations. Locations such as Joshua Tree are notoriously hard or "stiff" in the gradings, whereas modern sport climbing crags may be softer.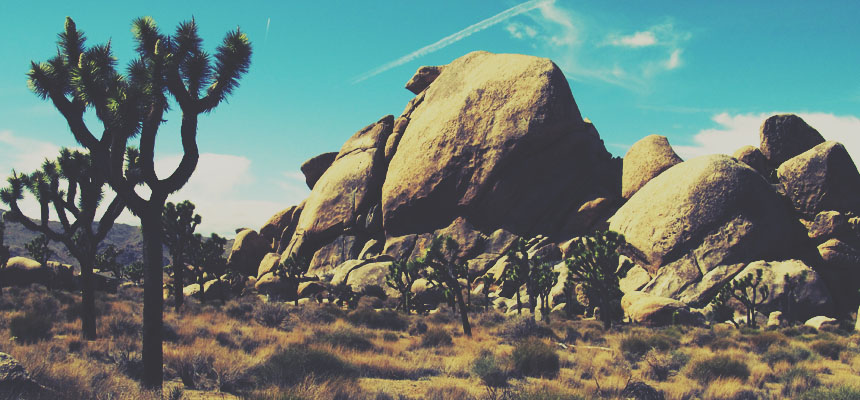 Rock climbing protection ratings
In addition to the number and letter grade above, outdoor roped climbs may also include a protection rating. This rating is a combination of the danger of the climb, along with the degree of spacing between protection/bolts (how "run-out" the climb is). These ratings correlate with the movies:
PG: occasional run-out sections
PG-13: these climbs tend to be fairly run-out, and the leader should be very competent at the grade
R: designated for very run-out or dangerous climbs where a fall could be fatal
X: these climbs are truly "no-fall" climbs; there exists little to no quality protection
A look at The Bachar Yerian 5.11c R/X one of the most famous run-out and "no fall" climbs:
National Climbing Classification System (USA)
Not to be confused with the class system outlined under the Yosemite Decimal System, the NCCS climbing grade scale measures what climbers often refer to as the "commitment Grade." This system essentially categorizes the time investment an average climbing team must commit in order to successfully complete a route. These are especially useful in places like Yosemite, where routes can vary from quick multi-pitch outings to multi-day big wall climbs.
Class I and II: 1/2 a day or less for the technical (5th class) portion of a route
Class III: Most of a day of roped climbing
Class IV: A full day of technical climbing
Class V: Typically requires spending a night on the route, or done fast and free in a day
Class VI: Two or more days of hard climbing
Class VII: Remote walls climbed in alpine style
Aid climbing grade rating systems
Aid climbing, in contrast to free climbing, involves pulling or standing on fixed or placed protection to ascend a section of rock. This style of climbing—most often used during big wall ascents—has several scales for grading, including the Original Grading System, the Clean Climbing Rating System, and the New Wave Rating System. For each, the system measures the quality/dependability of gear placements and the level of danger in the event of a fall. Many consider aid climbing grades to be especially arbitrary, as skills, equipment, height, and other elements can greatly affect the difficulty of a route.
When the letter "A" precedes a number grade, this suggests that the route requires or features placements that require the use of a hammer, such as copperheads or pitons. The letter "C," by contrast, means that the route can be climbed clean; instead of relying on passively placed protection, such as cams, nuts, or hooks.
A simplified outline of the New Wave / Clean Climbing aid rating systems:
A0 or "French Free": A free climb with an occasional aid move that does not require specialized aid climbing gear, such as etriers. This often involves pulling on bolts.
A1, C1-C2 (beginner): Considered beginner aid, most of the climbing is straight forward with secure placements. Some aid climbing gear, like hooks, cam hooks, even a couple pitons, (which are often fixed on beginner routes) may be necessary.
A2-A3, C2-C3 (intermediate): Moderate aid climbing with some tricky gear placements. There is no long fall potential, but some aid-specific gear is likely required.
A3+-A4, C3-C4 (advanced): Involves hard aid climbing with many tenuous placements in a row. Long or dangerous fall potential may exist. Gear may be secure, but will not hold falls.
A4-A5,C4-C5 (expert): Consecutive tenuous and body-weight only placements that could result in a fall of 20-meters or more. These require extreme technical expertise and mental strength. A single pitch could take many hours to lead.
What terrifyingly hard aid climbing looks like:
---
If you liked this article on rock climbing grades, we think you'll also enjoy: